The Introductions of Glossy Photo Paper, Matte Photo Paper and Adhesive Photo Paper
       The Introductions of  Glossy Photo Paper, Matte Photo Paper and Adhesive Photo Paper
    Photo paper comes in two main types of finish - glossy or matte. Although both glossy and matte
have their pros and cons, it really comes down to personal choice.

    Glossy paper is what most people are used to see from their local photo shop. This paper will be
highly reflective and shiny and may take longer to dry than matte prints due to its glossy coating.
Glossy paper will normally have one printable side, and one side without a coating.

    Matte paper, on the other hand, looks smooth and doesn't reflect light like glossy paper. Matte paper
is normally thicker than glossy and dries faster. This paper will also frequently feature dual-sided
printing capabilities.

    If you're trying to choose between glossy and matte, the best way is to pick up a couple of 25 sheet
packs of paper and try printing on both of them. This way you can see which one you personally prefer
since there is no real technical reason for choosing one over the other.

    Choosing a photo paper can be quite an ordeal. Between the various finishes, qualities, and
manufacturers, finding something you like can seem like a real challenge. However, the best solution
is to try out a couple of different kinds and see which one you like the best.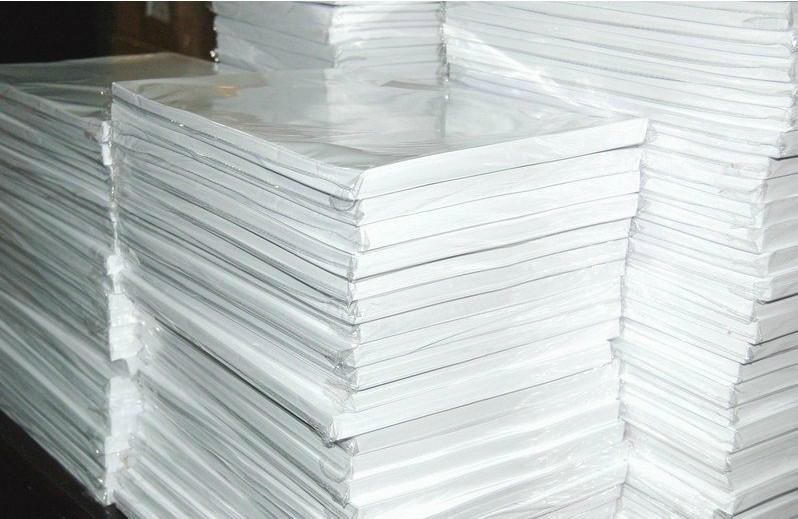 Adhesive photo paper is not normally used for printing off photos to share with your relatives and
friends, but it's great for photo albums and invitations. Adhesive photo paper is just like a normal satin
photo paper, but with adhesive on the back of it. Think of a gigantic 8 x 11" sticker - that's basically what
you're looking at with adhesive photo paper. The entire concept is to be able to put a sheet of satin
photo paper into your printer, print off a high-quality photo, and then simply peel off the backing and
stick your photo somewhere without having to deal with all the hassle of glue sticks or photo corners.
It has all the stickiness of a sticker, with all the quality of satin photo paper.


      And while you might not realize it, adhesive photo paper can actually make it a lot easier to share
photos with friends and family. While you might not want to include loose, free-falling snapshots in an
envelope to Grandma, you might be able to stick a small picture onto the end of a letter. You can use
the "stickers" on boxes you send out, on invitations, on magnets, or even just to label your briefcase
easily. Any place you can put a sticker, you can put a face. And who doesn't want to see their toaster
smiling back at them in the morning?