Roland Desktop Sublimation Printer-Versa Studio BN-20
Roland Desktop Sublimation Printer-Versa Studio BN-20
   The BN-20 packs everything into one, powerful, profit-producing package. With award-winning eco-solvent inks including metallic and white options, a range of material compatibility and integrated contour cutting, the BN-20 is easily the most versatile print device in its class. The BN-20 is perfect for creating t-shirt graphics, poster prints, stickers and decals - all from the comfort of your desktop.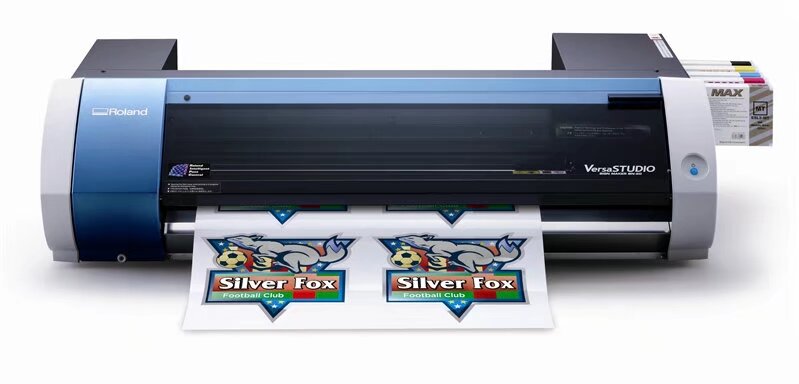 Achieve So Much More
   Not only does the BN-20 desktop inkjet printer/cutter open up a world of graphics possibilities, but it does it with the highest level of quality. Featuring a piezo inkjet print head that prints up to 1440 dpi, the BN-20 delivers exceptional quality prints with smoother gradations, richer density and deeper image saturation for photographic and vector output.

    Print and Cut in One Integrated Workflow
   The VersaStudio streamlines the production process by automatically contour cutting its printed output and eliminating the need to reload and reposition graphics. For laminated graphics, our Quadralign® four-point optical registration system allows users to remove prints, laminate and reload them for cutting. Quadralign automatically realigns the cutting path and compensates for skew and distortion.
 Notifications:
  1. The length of printing or cutting is subject to the limitations of the program.
   2. Using Roland specified media, loaded correctly, temperature: 25°C (77°F), humidity: 50 %RH, all pinch rollers are used, 25 mm or more for both right and left margins and 35 mm or more front margin, excluding expansion or contraction of the emdia, and all correction and adjustment functions of this machine have been made properly.
   3. Using Roland specified media, print travel of 1m.
   4. Using Roland specified media, cut travel of 1m.
   5. Range for assured repetition accuracy: Length 1,000 mm.
   6. Provided that media length is under 1,000 mm. Excluding possible shift caused by expansion/contraction of the media and/or by reloading the media.
   7. Using Roland specified media, data size: 1,000 mm in the media-feed direction, 480 mm in the carriage-movement direction. No lamination. Automatic detection of crop marks at 4 points when media is reloaded. Excludes the effects of skewed movement and of expansion and contraction of the media.
   8. Warm-up is required after power up. This may require 5 to 20 minutes, depending on the operating environment. The preset temperature may fail to be reached 35°C (95°F) depending on the ambient temperature and media width.
   9. Roland Software Package includes: Windows driver, OnSupport software, utility software and R-Works design software
   If you want to find a good desktop inkjet printer, then Roland Versa Studio BN-20 is a good choice for you.
E-mail: sales@ink-sublimation.com
Website: www.ink-sublimation.com
Whatsapp: +86 18105155024
Follow us: