Sublimation Printing on an Advertising Umbrella | Getwin Industrial Co.,Ltd
Have You Ever Advertising with an Umbrella?
  Sublimation printing on the umbrella is common seen now, we can see many beautiful umbrellas when we walk outside, no matter in the rainy day or the sunny day. In outdoor advertising industrial, sublimated advertisement umbrella is an important tools.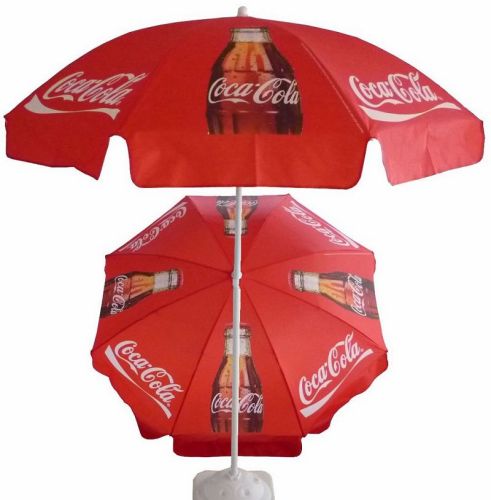 We can find many cost-saving and effective advertising media nowadays, such as the banner, the flag and so on. But when it comes to keeping a brand recognized whatever the weather is, there is nothing better than a promotional umbrella.
  There are many advantages of advertising umbrella:
  1. It has a large printing space. You can print your products, your logo, your contact information and something else on the umbrella easily.
  2. It can be used in all kinds of weather conditions. People rely on them rain or shine--protection against the sun and other difficult weather conditions.
  3. They can offer long-life use. As long the umbrella serves it purpose, it will be kept and used over and over again.

  It is easy to make a advertising umbrella, what you need to do is:
  1. Design a pattern you need to print on the umbrella;
  2. Print the pattern on the sublimation paper with an inkjet printer which filled with sublimation ink;
  3. Transfer the pattern from the paper to the fabric with a heat press machine;
  4. Make a umbrella with the printed fabric.
  Sublimation printing on outdoor advertising is very common, and it can be used in many kinds of advertising medias. If you want to have a low cost advertising, then you can have a try.
Website: www.ink-sublimation.com
E-mail: sales@ink-sublimation.com
Whatsapp: +86 18105155024
Follow us: