Heat Transfer Press Machine for Dye Sublimation Transfer
                      Heat Transfer Press Machine for Dye Sublimation Transfer
   

     With the Dye Sublimation Transfer Process, you can print high quality digital images on a huge
variety of items made of any material that is treated or coated or made of polyester. The imprinting is
accomplished using a printer, special transfer inks and paper and a heat press.
   
     A heat press is the machine that presses a transfer onto an imprintable substrate. Using high
temperatures and specified pressures for a certain amount of time, the transfer is permanently
embedded into the product. Heat presses are available with various sized platens, with clamshell or
swing away heating elements, and with manual or automatic release features. Some heat presses
are created just for specific uses, like the cap or mug presses. The maximum print size of your printer
should match the platen size of your press.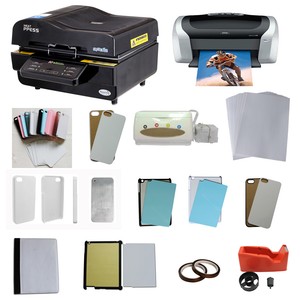 Heat presses are recommended for professional and satisfying results simply because standard
laminating devices and home hand irons can not get near the temperatures required for a reliable
transfer. Sublimation transfers require anywhere from 375° to 425° F and demand serious force in
pressing often from 40-80 psi. These temperatures and pressures are not possible with other heated
devices.