Introductions of High Speed Large Format Dye Sublimation Printer
                                 Introductions of High Speed Large Format Dye Sublimation Printer

    For many years, dye sublimation printers were specialist devices used in demanding graphic arts
and photographic applications. The advent of digital photography led to the entry of this technology into
the mainstream, forming the basis of many of the standalone, portable photo printers that surfaced in
the second half of the 1990s.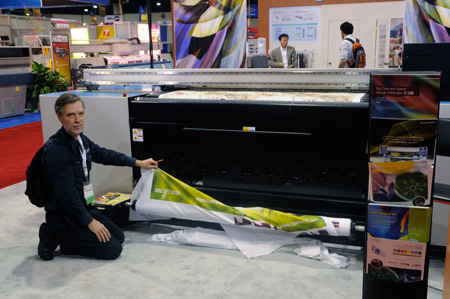 A dye sublimation printer (or dye-sub printer) is a computer printer which employs a printing
process that uses heat to transfer dye onto materials such as a plastic, card, paper, or fabric.

     Features:

    1.  Easy to operate
    
     2. Hassle-free performance
    
    3. Maintenance free


     Other Details:

    1. Four-color printing, max 3.2 meter wide format output.
   
     2. Different kinds of ink can be choosed, made the picture more gorgeous and lifelike.
   
     3. Printing resolution can reach to 1440 dpi, even the word is small as 0.5 mm.
   
     4. Three different sizes of dots, achieving the complement of point technology.
   
     5. Eliminating the granular sensation of the images, even under high speed or low resolution.
   
     6. High quality images can be printed.
   
     7. Multi-row pinch rollers ensure the machine can print with an accurate size of feeding media.
   
     8. Rip while printing, printing area selectable skip white printing direction.
   
     9. Simple Print Head Calibration mode can be easily mastered by operators.
   
     10. Micro Adjustment of Printhead Voltage.
  
     11. Specific brushless motor, stronger power and longer work life.
   
     12. Automatic and constant ink system cleaning function.
   
     13. Options for soft, normal and strong printheads sucking.

    GetWin Industrial Co.,LTD.is the manufacturer of Large Format Dye Sublimation Printer,especially the OEM Orders.