Ricoh Gen 5 Print Head

Specifications

Size

89(W)*25(D)*69(H)mm(excluding cables&connections)

Head Materials

SST,Nickel alloy*Epoxy adhesive(Direct contact with ink)

Compatible jetting fluids

Compatible with water,solvent,oil,UV curable inks

Nozzle plate surface

Coated SST

Nozzle spacing

 

A:within a single row

0.1693mm(1/150")

B:Within a color

0.0847mm(1/300")

C:Single pass

0.0423mm(1/600")

D:Row to row distance

0.55mm

E:Color to color

11.811mm

Ink inlet port

2*dual ports

Piezo type

D33 stacked PZT

Drop ejection mode

Piston pusher with metallic diaphragm plate

Integrated electronics

Low-voltage serial to high-voltage parallel converter;

3-bit shift resistors;transmission gate outputs

Temperature control

Integrated heater and thermistor

Viscosity

11 CP(at operating temp)

Surface tension

32 dynes/cm

Native drop volume

7 pico-liter

Drop volume range/variation

7-35 pico-liter with grey-scale/±10%

Drop velocity nominal/variation

7 m/sec/±15%

Crosstalk

10% or less with all channels firing

Jet straightness 1 sigma

<3.5 milli-radian from nozzle centerline

Native drop operating frequency

60kHz(Higher burst possible under ideal condition)

Life

100 billion actuation's per nozzle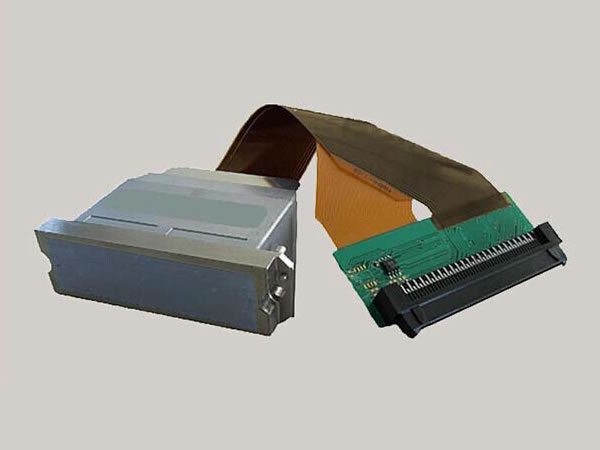 Introduction: 
1. 1280 channels 
2. Two colors and four colors support 
    Single color: 600dpi
    Two color: 300dpi 
    Four color:150dpi                                                                                
3. 8 level grey scale capacity   

Features:    
  1. Ricoh RICOH GEN5 nozzle, a dual channel (can print two colors) and four channels (can print four colors), divided into oil and water-based nozzle, long-term and short- Scale printing. Fully closed pumping, waterproof, anti-aging, Ricoh Gen5 nozzle equipped thermostat system, print voltage chaning with temperature adjustment, can get a more stable printing status.    
  2. With 1,280 nozzles configured in 4 x 150dpi rows, this head achieves high-resolution 600dpi printing. Additionally, the ink paths are isolated, enabling a single head to jet up to four ink colors.    
  3. Excellent durability and extended service life, nearly 3 years lifetime     
  4. Ricoh inkjet print heads are made of stainless steel. These heads are highly robust and offer excellent anti-corrosion properties for multiple inks, resulting in excellent durability and extended service life. 
   

Our service: 
1. We offer OEM/ODM Service. 
2. We are integrated industrial and trade enterprises, We can offer the best  international trading service. 
3. We have been producing since 2009, Quality is the reason why we can stand on the top of industry, we can  always give you the best quality control. 
4. Fast delivery, We have plenteous production lines and scientific production management system to ensure  the delivery time. 
5. We have professional team working for overseas trading, which can save more of your valuable time.